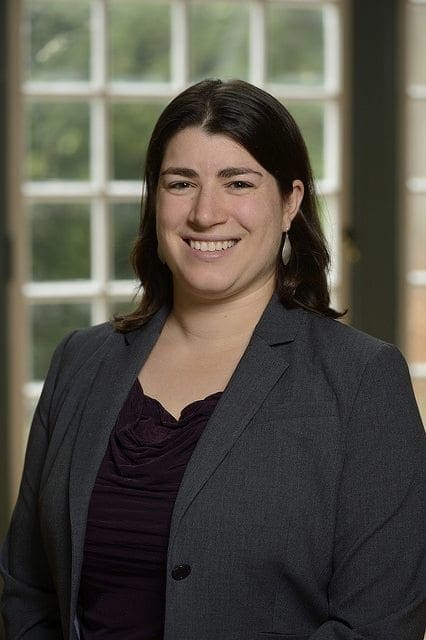 Julia Burdick-Will
Assistant Professor
Mergenthaler 437
Wednesday, 3:00-5:00
410-516-7633
jburdickwill@jhu.edu
Curriculum Vitae

I arrived at Hopkins in 2014 with a joint appointment in Sociology and the School of Education. I received both my BA and PhD in Sociology from the University of Chicago and spent two years at Brown as a Postdoctoral Research Associate in the Population Studies and Training Center. My recent article on school violence won the 2014 James Coleman Award for the best article in the Sociology of Education from the American Sociological Association.
My research examines the role of neighborhood and school contexts in shaping educational inequality. My dissertation, "Violent Crime and Achievement in Chicago: Neighborhoods, Peers, and Schools," examines the impact of violent crime in neighborhoods and schools on student achievement. In other work, I have studied the relationship between neighborhood demographic change, changes in school-level achievement, and the geography of elementary school openings and closings. I am currently examining the relationship between neighborhood disadvantage and patterns of high school attendance and school choice.
230.109 Freshman Seminar: Hot Topics in Education
230.322 Quantitative Research Practicum
230.604 Linear Models
2013 Burdick-Will, Julia. "School Violent Crime and Academic Achievement in Chicago." Sociology of Education 86(4). (NIHMS521761)
2013 Keels, Micere, Julia Burdick-Will, and Sara Keene. "The Effects of Gentrification on Neighborhood Public Schools." City & Community 12(3).
2013 Burdick-Will, Julia, Micere Keels, and Todd Schuble. "Closing and Opening Schools: The Association between Neighborhood Characteristics and the Location of New Educational Opportunities in a Large Urban District." Journal of Urban Affairs 35(1).